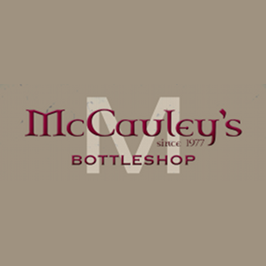 facebook.com/McCauleysBottleshop
The award winning McCauley's Bottle Shop has been operating since 1977, and has recently been passed down from father to son to continue as a family business in a small town.
Local, friendly service with a personal touch is a priority for McCauley's. Every time we meet with John and his staff on site, they are chatting to customers as old friends – and know all of their names!
Their marketing strategy has been growing over time as they keep seeing results. Given their friendly, personal approach, we started them on a managed facebook page, running competitions for the promotional gear they accumulate.
After only a few weeks of success, they decided to expand to email marketing for their catalogues, and now even send out birthday vouchers via SMS.
Most recently, we have launched their new website to showcase their special offers and friendly staff.
We're now working on a loyalty points system, allowing customers to log in from their mobile phones to see how many "Beer Bucks" they've saved up to spend in store.
I knew Facebook advertising could boost my business, but didn't know where to start. I was worried about wasting my own time with the technical details, and the quotes I looked at were pretty steep. Then I started working with Steve at tecset.
Tecset are down to earth and explain things simply. What started as Facebook advertising has flourished into a fully loaded marketing solution. They quickly rebuilt my outdated website and I now SMS my loyalty club members on their birthdays. I also have an automated email newsletter with my specials and promotions.
The team at tecset are always easy to contact and they respond quickly. I get detailed reports every month so I understand what I am paying for.
We promoted beer for 18-25 year old males on Facebook, until tecset showed me a report with a majority of 35-44 year old females, and shifted our focus to white wine. This showed an immediate improvement in my GP and provided useful insights into my customers.
When we introduced our Craft Beer Growler taps, tecset's high energy promotion had a line going out the door! As a retailer, I now understand the value of having a social media marketing tool and a direct marketing attitude. It is really cost effective.
I highly recommend tecset to ILG members. They have a strong background in IT; marketing and liquor retail. They understand what I want, and I can trust them to make it happen.