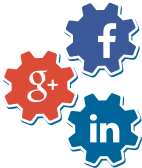 Social media is a powerful tool that will drive more visitors to your website or store, build trust and create a buzz around your products and services, and, in turn, make more sales.
If you have a business and haven't mastered the use of social media for your business, don't worry. Most haven't.
Tecset specialises in helping people to maximise the use of Facebook to find leads, generate brand awareness, and increase sales.
We hear about the growth of the social media user base every day. We can leverage this market and tap directly into conversations about your brand and engage your clients and customers on a personal level.
Facebook marketing relies on engagement and conversation to establish trust and respect between business and consumer. This process builds a relationship that eventually leads to widespread brand recognition and improved brand perception.
With facebook marketing, we can target advertising based on location, age, gender, marital status – even preference for specific products – and only spend time talking to the people that are going to care.
We can generate reports on exactly how many people from each demographic saw the ads, responded to them, and shared them with friends. This means we can test different offers and keep improving as we go. There's no need for guess work.
Our Facebook Marketing & Management packages include:
Targeted status, photo and event updates
Personal account manager
Conversation and Audience engagement
Replying to users posts, questions, photos, and any other interactions
Promotion and Specials Advertisement
Lead Generation
Monthly reports
Join in the conversation. Work with us now to make it happen.